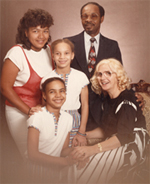 Giengen, Germany, 1983
The Okorojis - that's Isaac (Dad), Waltraud (Mom) and their three daughters Alex, Rebecca and Corinna.
Waltraud and Isaac met in Germany and their three daughters were all born there. They moved to Kano, Nigeria in 1975 and the family eventually all moved back to Germany between the years 1990 and 1996. Since then, Corinna has moved to Ireland and Alex has gotten married and now has 2 sons. Dancing is a common hobby that they all enjoy.
Isaac Okoroji
Waltraud Okoroji
Location:
Cologne, Germany
Location:
Cologne, Germany
Nickname:
The German Nigerian
Interests:
Window shopping
Alex Enehizena nee Okoroji
Rebecca Okoroji
Location:
Ehrenkirchen, Germany
Location:
Hennef, Germany
Interests:
Her 2 sons
Nickname:
Bubi
Corinna Okoroji
Location:
Cork, Ireland
Interests:
Photography